Destination: South and Central America/Mexico/Antarctica
Tour Provider: Wendy Wu
Duration: 15 days
Require More Info or book?
More Info
New to Wendy Wu
Promo Code: DTUWVIT
Description:
Tour Highlights
Explore Valparaiso by night and day
Wander through Moon Valley
Discover Altiplano lakes and mountains
Admire Torres del Paine
Tour Inclusions
Return international economy flights, taxes and current fuel surcharges
All accommodation
Some meals
Touring with English speaking local guides and entrance fees
All transportation and transfers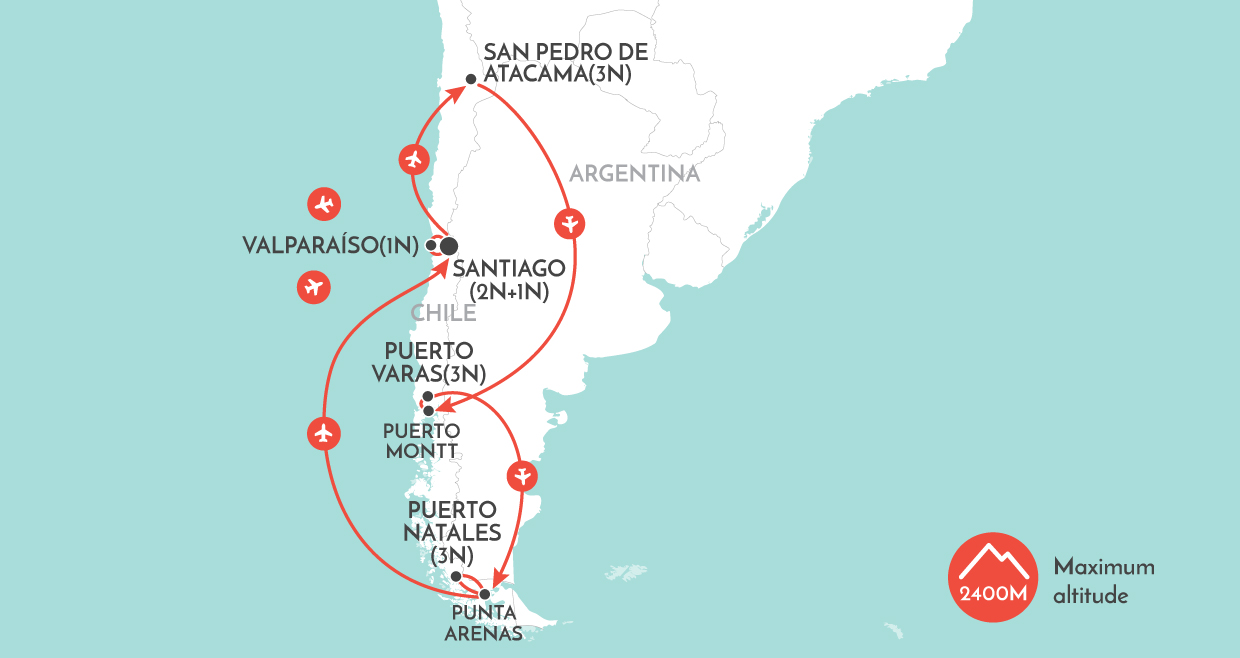 Itinerary:
Tour Itinerary
DAY 1: FLY TO SANTIAGO
Fly Chile's sophisticated capital Santiago, arriving the same day due to crossing the International Date Line. You will be met at the airport and transferred to your hotel. Enjoy the rest of the afternoon at leisure before a welcome dinner in the evening.
Meals Included: Dinner
Destination Information Santiago – Santiago is a vibrant and culturally rich city set on the plains of the Andes and home to 40% of Chile's population. Split into 32 boroughs (comunas), each area has its own distinct character yet all the streets are alive with the energy of the city.
DAY 2: SANTIAGO
This morning, embarking on a city tour will allow you to experience its eclectic contrasts. Stroll around the Plaza de Armas and the Cathedral to admire the colonial facades, before walking down Ahumada Boulevard, the city's main commercial street. Explore the bohemian Bellavista by road, and drive up San Cristobal Hill for views over the city and the towering Andes Mountains. Finish the tour in the modern area of Santiago to wander the chic neighbourhoods. Your afternoon is at leisure.
Meals Included: Breakfast, Lunch
DAY 3: SANTIAGO TO VALPARAÍSO
Travel to the coast, to visit the manicured seaside resort of Vina del Mar and the bohemian port town of Valparaíso. Visit the beach area of Renaca before riding on a funicular up into the hills to explore, stopping for a visit to Chilean poet Pablo Neruda's house. Transfer to your hotel in the captivating city of Valparaíso.
Meals Included: Breakfast, Lunch
Destination Information Viña del Mar – In complete contrast and a mere 10-15 minute drive from Valparaíso sits the relaxed beach resort of Viña del Mar. Wide tree-lined boulevards make up the city and the popular beaches stretch as far as the eye can see. Valparaíso – Overlooked by an imperious hillside and set on a wide bay, Valparaíso is considered to be the most captivating and unique city in Chile. Designated a UNESCO World Heritage Site in 2003, the colourful houses are dotted across the hillside in a haphazard, disorganised fashion and the main method of getting up and down through the city is by the old funicular lifts.
DAY 4: VALPARAÍSO TO SAN PEDRO DE ATACAMA
Rise early and transfer to the airport to board your flight to Calama. On arrival, transfer to your hotel in the desert oasis town of San Pedro de Atacama. This afternoon, you'll see some of San Pedro's most famous landscapes with a drive out to Death and Moon valleys, some of the driest spots on the planet.
Meals Included: Breakfast, Lunch
Destination Information San Pedro de Atacama – San Pedro de Atacama is a town sitting in the Andes mountains of North East Chile. The dramatic surrounding landscape incorporates desert, salt flats, volcanoes, geysers and hot springs. Moon Valley – The Moon Valley is a vast lunar backdrop of scattered hills in the Atacama Desert. The Valley is at its most impressive at sunset and sunrise when the sunlight creates a magical series of colours from orange to purple and pink.
DAY 5: SAN PEDRO DE ATACAMA
Travel to the otherworldly Salar de Atacama, the largest salt flat in Chile. Visit Chaxa lagoon, part of the Los Flamencos National Reserve en route to reach Miscanti and Miniques lagoons, which sit on the high plains at the base of two colossal volcanoes of the same names. Travel to the village of Socaire. Here you will see ancient agricultural terraces with irrigation channels. After lunch, travel another peaceful village with typical colonial architecture built in Liparita (volcanic stone), Toconao. Explore the village before returning to your hotel.
Meals Included: Breakfast, Lunch
Destination Information Salar de Atacama – The largest salt flat in Chile, Salar de Atacama is an intriguing natural phenomenon. The basin was formed by evaporated water, which flowed down from the Andes. There are numerous lakes within the basin, some of which are home to flocks of flamingos.
DAY 6: SAN PEDRO DE ATACAMA
Rise early and travel deeper into the Atacama to visit El Tatio Geysers. Set within a ring of volcanoes, there are about 80 lively geysers and fumaroles, which are at best at sunrise. Have a guided walk amongst the mud craters and small bubbling geysers. Wander freely before travelling through the Andes Mountain Range with impressive views of Putama Volcano and Tocorpuri Mountains. Visit the small desert village Machuca to see the typical terrace farming system, mud houses with straw rooves, and its local fauna such as llamas, alpacas and flamingoes. This afternoon, travel to an archaeological site where you can see Petroglyphs, stone scultped figures with drawings of llama and shamans, among others. Then, visit the Rainbow Valley. Keep an eye out for the wild vicunas as you journey to and from San Pedro.Today is a full day touring. This day you will be reaching an altitude of 4320 metres above sea level for a short period of time.
Meals Included: Breakfast
Destination Information El Tatio – Set within a ring of volcanos, El Tatio is the world's third largest geyser field with about 80 lively geysers and fumaroles. The spectacle is best observed at sunrise, when the geysers are at their most active.
DAY 7: SAN PEDRO DE ATACAMAS TO PUERTO VARAS
This morning, transfer back to Calama and board your flight to Puerto Montt the gateway to Chile's spectacular Lakes District, via Santiago. This afternoon tour the city with visits to the Plaza de Armas, the Cathedral and Maunel Montt lookout, which offers great panoramic views and stopping at Angelmo Cove. Continue to Puerto Varas and check in to your hotel.
Meals Included: Breakfast, Dinner
Destination Information Puerto Varas – Known as the city of roses, Puerto Varas is a scenic city sitting in the shadow of two impressive volcanoes - Osorno and Calbuco
.
DAY 8: PUERTO VARAS
Depart to Pargua and board the ferry over to the Chiloé to visit the largest island, Isla Grande. Arrive at the village of Chacao for a short stop and then continue to Dalcahue, where you'll have free time to explore, and the city of Castro. Visit Ancud, where you'll see the Main Square, the Regional Museum, the Local Market, the Huaihuen Hill and the San Antonio Fort. Enjoy lunch and then return to your hotel.
Meals Included: Breakfast, Lunch
Destination Information Chiloé – Known for its iconic wooden churches built by Jesuit missionaries in the 17th and 18th centuries, wild remote national parks and forests, and unique spiritual centre.
DAY 9: PUERTO VARAS
Travel to the surrounds of Llanquihue Lake and to the village of Ensenada, a small village at the foot of Volcan Osorno. Take the hike through the volcano's plentiful nature, making several breaks on the way, to reach the visitors centre at 1240 metres altitude. Head to Perez Rosales National Park to Petrohué Falls, where you will walk on the boardwalks to admire the flowing river over the large masses of crystallized lava, formed by the volcano's eruptions.
Meals Included: Breakfast, Lunch
Destination Information Volcan Osorno – A 2,652 metre tall volcano in Los Lagos region of Chile, Osorno is notable for its similar appearance to Mount Fuji in Japan.
DAY 10: PUERTO VARAS TO PUERTO NATALES
Transfer back to the airport and fly further south to Punta Arenas, a city that sits at the end of continental South America on the Straits of Magellan. From there, you will be transferred to your hotel located in Puerto Natales.
Meals Included: Breakfast
Destination Information Puerto Natales – Famous as the gateway to the Torres del Paine National Park, Puerto Natales is a very popular tourist town.
DAY 11: PUERTO NATALES
Rise early and transfer to the pier to start sailing on the gloomily named Ultima Esperanza (Last Hope) Fjord, a body of water that is set in a magnificent landscape. After, arrive at the thousand-year-old glacier of Mount Balmaceda, habitat to cormorants and sea lions. Continue to the end of the fjord and take a short walk through native forest to the foot of Serrano Glacier, part of the Southern Ice Field. Return to your hotel for your evening at leisure.
Meals Included: Breakfast, Lunch
Destination Information Ultima Esperanza – In 1557 Juan Ladrillero, a Spanish explorer, gave the channel its name when he believed travelling through it was his last opportunity to reach the Strait of Magellan - though in fact he was met with a dead end.
DAY 12: PUERTO NATALES
Enjoy another full day excursion, this time to the UNESCO World Heritage-designated Torres del Paine National Park. Spend the day amongst this breathtaking example of resplendent nature spotting large herds of guanacos as you go. Visit the Salto Grande of the Pehoé River, with the impressive mountain massif of Torres del Paine in the background. Then visit Lake Pehoé, Lake Grey and Grey Glacier.
After lunch, on the way back to Puerto Natales stop at Milodon Cave where the remains of a prehistoric animal were found in the last century.
Meals Included: Breakfast, Lunch
Destination Information Torres del Paine National Park – A picturesque and staggeringly beautiful national park, packed with waterfalls, lakes, glaciers and jagged peaks. The park's best-known view is of the jagged granite towers from which the park takes its name.
DAY 13: PUERTO NATALES TO SANTIAGO
Transfer back to the airport in Punta Arenas and board your flight to Santiago. On arrival, transfer to your hotel and enjoy the rest of the day at leisure.
Meals Included: Breakfast
DAYS 14-15: DEPART SANTIAGO
Transfer to the airport according to your international flight time and fly to Australia
Meals Included: Breakfast
---
Call us on 1300 657 948 to book today!
Talk to an Expert about your Cruise - We will contact you
---