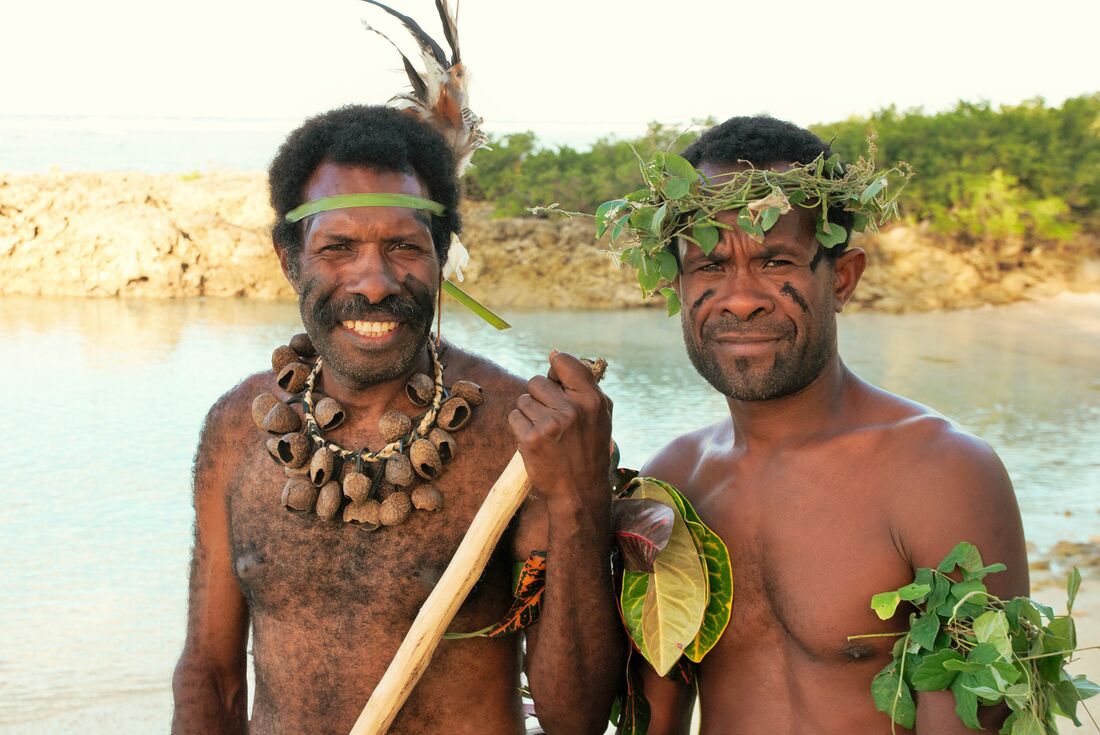 Destination: Australia/NZ/South Pacific
Tour Provider: Intrepid
Duration: 8 days
Require More Info or book?
Enquire
Valued At
$2,970 per person
Pay Only
$2,895 per person
Overview
---
Promo Code: DT1ICYUK
Description:
Snorkel coral reefs, hike an active volcano and encounter cargo cults
Encounter raw beauty and vibrant culture on the tiny islands of Vanuatu on this eight-day expedition. Leave the resorts of Port Vila behind and fly to rainforest-rich islands where you can meet locals, immerse yourself in nature and enjoy true adventure travel. Encounter communities where kastom – traditional culture and law – still rules, including the legendary John Frum 'cargo cult' villages. Snorkel among the gorgeous coral reef that is protected by law. Trek through towering greenery and learn about living among active volcanoes and tropical
---
Your guided Vanuatu adventure includes:
7 nights accommodation; 4 nights in a hotel, 2 nights in a Beach Bungalow & 1 night in a guesthouse
A total of 16 meals; 7 breakfasts, 6 lunches & 3 dinners
Transport via private vehicle, boat & plane
Included activities
Rentapao River - Kayaking
Rentapao River - Rentapao Cascades
Rentapao River - French-style lunch
Tanna - Rainforest trek
Tanna - World's largest banyan tree
Tanna - Mt Yasur
Tanna - Kastom village visit
Tanna - Rainforest & John Frum cargo cult villages trek
Tanna - Port Resolution
Tanna - Hot Springs
Nguna Island - Snorkelling
Nguna Island - Tree planting activity
Nguna Island - Taloa Village visit
Emua Village - Beachfront lunch
Departure dates available from August 2021 - 17 December 2022
---
Why you'll love this trip:
Encounter the cargo cult communities of Tanna and see for yourself how these indigenous villages have incorporated WWII iconography into their religious traditions.
Hike to the rim of Mt Yasur, one of the world's most active volcanoes, and watch the smoke and lava billowing (from a safe distance, of course).
Snorkel in the clear waters around Nguna and see the remarkable coral reef that is protected as part of a marine reserve.
Go beyond the walled-off resorts and discover the beauty and cultures of Vanuatu. Trek, paddle, swim and snorkel in some of the most beautiful places in the tropics.
Trek through the towering rainforest to find a banyan tree that is said to be the largest in the world, with hundreds of prop roots that support it.
---
---
Is this trip right for you?
Your accommodation in Tanna and Nguna is in traditional bamboo bungalows. These have standard beds with mosquito nets and bathroom facilities, but showers are cold water only. Your meals on these islands will be home-cooked with love by the village mamas using fresh, organic produce from the gardens and the sea.
Part of travelling with Intrepid is respecting local cultures and sensibilities. That way you get the most out of your interactions with local people and environments. In Vanuatu, female travellers can be respectful by wearing clothing that covers from shoulder to knee when outside the hotel pool area. An old t-shirt and a pair of board shorts are a good alternative to bikinis for island snorkelling adventures!
Itinerary:
Day 1. Port Vila
Welcome to Port Vila, the capital of Vanuatu! Your adventure begins today with a welcome meeting at 5 pm at your accommodation. There are no other activities planned for the day. If you arrive with time to spare before the welcome meeting, the heart of the city and the waterfront promenade are just a short walk from the hotel
Day 2. Port Vila – Rentapao River
Today you will discover some of Efate's best spots. A 25-minute scenic drive will take you to our kayak base on the Rentapao River. Experience Vanuatu's rainforest and village life as you paddle and swim its safe waters. After a French-style lunch at the river's edge, we transfer upstream to the river cascades, a great place to swim, relax, and shake off any jet lag. You will be back at your hotel by mid-afternoon, allowing ample time to discover more of Port Vila.
Day 3. Tanna
It is an early morning start today for our Air Vanuatu flight to the legendary southern island of Tanna. On arrival, it is a short transfer to our beachside bungalow, and after lunch, we begin the first of our amazing Tanna treks. High on a ridge overlooking the coast is the world's largest banyan tree. Our path there and back passes through scattered villages, food gardens, and rainforest – a great opportunity to meet 'the happiest people in the world' going about their daily lives. Trekking time may be up to 3 hours. Arriving back at our bungalow, enjoy the sunset and maybe a cool drink, and keep an eye out for whales that cruise along the coast from July onwards.
Day 4. Tanna – Mt Yasur
A big day today! We start with a 30-minute drive to a remote "kastom" village hidden in the rainforest. The community here have rejected modern life and are proud to conserve and maintain their traditional lifestyle. Our village hosts will prepare some traditional foods from the garden and share their culture with you, before we head across the spine of the island towards Tanna's famous volcano, Yasur. At the edge of the ash plain, we don our walking shoes again for the second of our Tanna treks, three hours to the rim of the volcano. Our track winds through rainforest and John Frum cargo cult villages, with sweeping views the higher we go. Throughout the trek, you will feel the ground shaking and hear the volcano rumbling, and finally, as you arrive at the crater rim in the late afternoon, you will be amazed at the firework show that awaits. We return from the volcano in the evening, our accommodation a village bungalow located near the volcano.
Day 5. Tanna – Port Vila
This morning you will travel down to Port Resolution, named after one of Captain Cook's ships, to discover the black sand beach and natural hot springs, and take a short trek around the shore. Enjoy lunch in the heart of the village, before the scenic drive back to the airport for our afternoon flight to Port Vila and return to our accommodation.
Day 6. Nguna Island
After the spectacular culture, rainforest, and volcano on Tanna, today you head to a pristine tropical island, renowned for its marine conservation area. It is a one-hour scenic drive via Efate's west coast to our boat landing, followed by a half-hour boat ride to Nguna island. You may choose to spend the full day snorkelling in the marine conservation area. Expect lots of fish, maybe the occasional turtle, and plenty of hard corals and small canyons and crevasses to explore. If you are keen on walking there is the option of a three-hour walk to a community conservation area at Nguna's smallest village – a mixture of historical relics, forest, and windswept cliffs. You will also have a chance to assist the community's reforestation project through tree-planting. Accommodation is at a beachside bungalow run by village women.
Day 7. Nguna Island – Port Vila
This morning we take an easy walk into the main village of Taloa, the historic church juxtaposed next to the new nakamal (traditional men's house). There is time for one last snorkel before heading back to Efate and lunch at a locally-owned restaurant. Savour your memories as you take in the lovely views across to Nguna! You then drive back to Port Vila, but this time along the east coast road, meaning you also get to do a round-Efate tour. There are lots of roadside markets to explore and plenty of photo opportunities. Plus you will stop for a swim at one of the beaches or coves around Eton village. We arrive back at our Port Vila accommodation for our final night together late afternoon.
Day 8. Port Vila
Your Vanuatu Expedition comes to an end this morning after breakfast. If you are travelling from April to June, this trip can be combined with our 5 day Vanuatu Land Diving Festival trip - search code TESL on our website.
Enquire
---
Terms & Conditions:
Prices listed are per person in Australian Dollars, based on twin occupancy, including all discounts unless otherwise stated. The offer is subject to availability at time of booking and shown on the lowest inside category available at the time. Fares are capacity controlled and are subject to change at any time without notice. Prices/Offers are correct as at 26 November 2020 and can be withdrawn without notice. Hotels may charge resort fees not included in this package, payable direct upon check in. Visas are not included. Payments made by credit card will incur a surcharge.